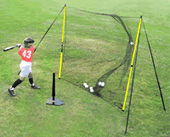 Hurricane Sports Net)
The Hurricane Sports Nets is a great training tool you cannot do without! Very portable and does not blow down. Easy to put up and take down and built to last. Shipping 18.00 lower 48 states.

Size: 7.5 Ft x 7.5 Ft Hitting Area Durable #21 Heavy Duty Nylon Netting Strong "Twist Lock" Fiberglass Telescoping Masts Oversize "Tuffgrip" 5/16" x 9" Steel Hooked Spikes 800lbs test Parachute Strapping Fully Waterproof 2 Year Guarantee Rugged Zippered Tote Bag Included Built to withstand 90 MPH winds but weighs only 11 lbs!