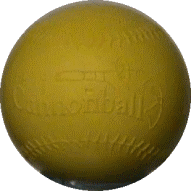 Cannonball Baseball Softball Rubber Weighted Ball

Throw against a solid wall, such as concrete or brick.
Perfect for rehabilitation, toning, therapy, muscle memory, strengthening, and warm-up.

Smaller than official size softballs allowing men, women, and youth to warm up with the same ball.
11" circumference, 16oz solid rubber
One Pound
The CannonBall is rapidly becoming the #1 warm up ball around the baseball and softball world because you can throw it with another person or against a brick wall by yourself. The cannon ball is a great way to loosen up and will increase arm strength and accuracy if used properly. When warming up with the CannonBall, you only want to throw it easy about 10 to 15 tosses, and then throw a regular ball easy about 3 to 4 tosses, then gradually pick up the speed another 10 tosses, or until you feel comfortable.
Perfect for rehabilitation
Muscle memory
Strenghtening
Warming Up
Smaller than official size softballs
16 oz.
11 inch ball