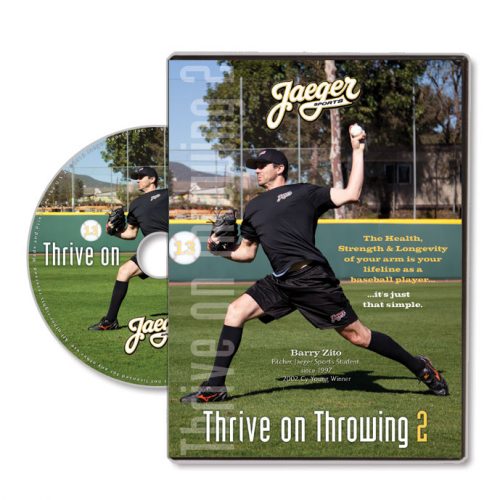 Thrive On Throwing 2 video will take you through our systematic Arm Care and Long Toss Throwing Program that has been at the core of our training program for over 20 years. Based on three major principles — Arm Care, Long Toss and Throwing Mechanics — Thrive On Throwing 2 video is a proven system that has helped players maximize the Health, Strength, Endurance and Recovery Period of their arms.

Featuring a detailed explanation and demonstration of our Arm Care Program (Arm Circles and J-Bands) and Alan Jaeger's Long Toss Throwing Program, this video teaches you how to thoroughly warm up your arm and safely prepare it to throw, and culminates with our signature Long Toss Throwing Program — a throwing routine that is at the core of developing Arm Conditioning, Arm Strength, Athleticism, Feel, Mechanical Connection and Mental Focus.

Along with appearances by 2002 Cy Young Award winner Barry Zito, UCLA Baseball Coach John Savage, 2011 Golden Spikes Award Winner Trevor Bauer, Peak Performance Trainer Dr. Marcus Elliott and Jaeger Sports' own Jim Vatcher and China McCarney.