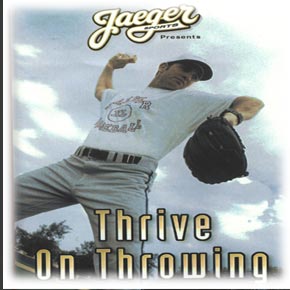 "Thrive on Throwing" is a must for anyone who is serious about playing Baseball or Softball.
"Your arm should be something that completes you as a player rather than something that you try to hide."
Shipping 6.95 USA
The health and longevity of your arm is your lifeline as a ball player. There's no other way around it. This video will take you through every step of Alan Jaeger's innovative Arm, Health, Strength and Conditioning Program. It will teach you how to strengthen your arm by developing the smaller muscles (rotator cuff) in your shoulder, which are the most vulnerable to injury. Through "arm circles" and a systematic surgical tubing exercise program the shoulder muscles gain greater range of motion, balance, endurance and stability. It will also teach you how to solidify your mechanics so they become supportive, efficient and consistent through Long Toss.
throwing is a lost art. Throwing isn't something that we should do "just" to get our arms loose. Throwing should be done to maximize that skill, to develop it like any other skill; to be a strength rather than a potential career threatening weakness.
There isn't any reason why a player should have a chronically sore, weak, or injury prone arm. If the arm would get the same kind of attention that our hitting, defense or pitching gets than it too would have a chance to thrive on a daily basis. Unfortunately, most baseball players neglect their arms or take them for granted.
The reality of it is that a baseball player needs to have a strong, well-conditioned and healthy arm to play baseball. Period. There is no substitution. Baseball players can simply not afford to allow their arm to be a liability it must be an asset. In case you forgot, you can't play baseball if you can't throw a baseball. Alan Jaeger
"Long Toss is a very important part of conditioning and training for everyone -" Dr. Lewis Yocum, Kerlan-Jobe Orthopedic Clinic
"If you don't stretch your arm out, you are more susceptible to an injury. I know that from experience" - Rudy Seanez, Pitcher
"I think long toss is a great way to build your arm up - to get in shape to throw off the mound" - Greg Maddux, Pitcher, Atlanta Braves
"The pull down phase of the long toss has actually solidified my release point on all three of my pitches, especially my curve ball" - Barry Zito Oakland As
"Without the opportunity to long toss the arm isn't able to gain the strength, length, and endurance it needs. Your arm will eventually reject you" - Seth Etherton, 1st Round Draft Choice, Anaheim Angels
DVD- 60 minutes