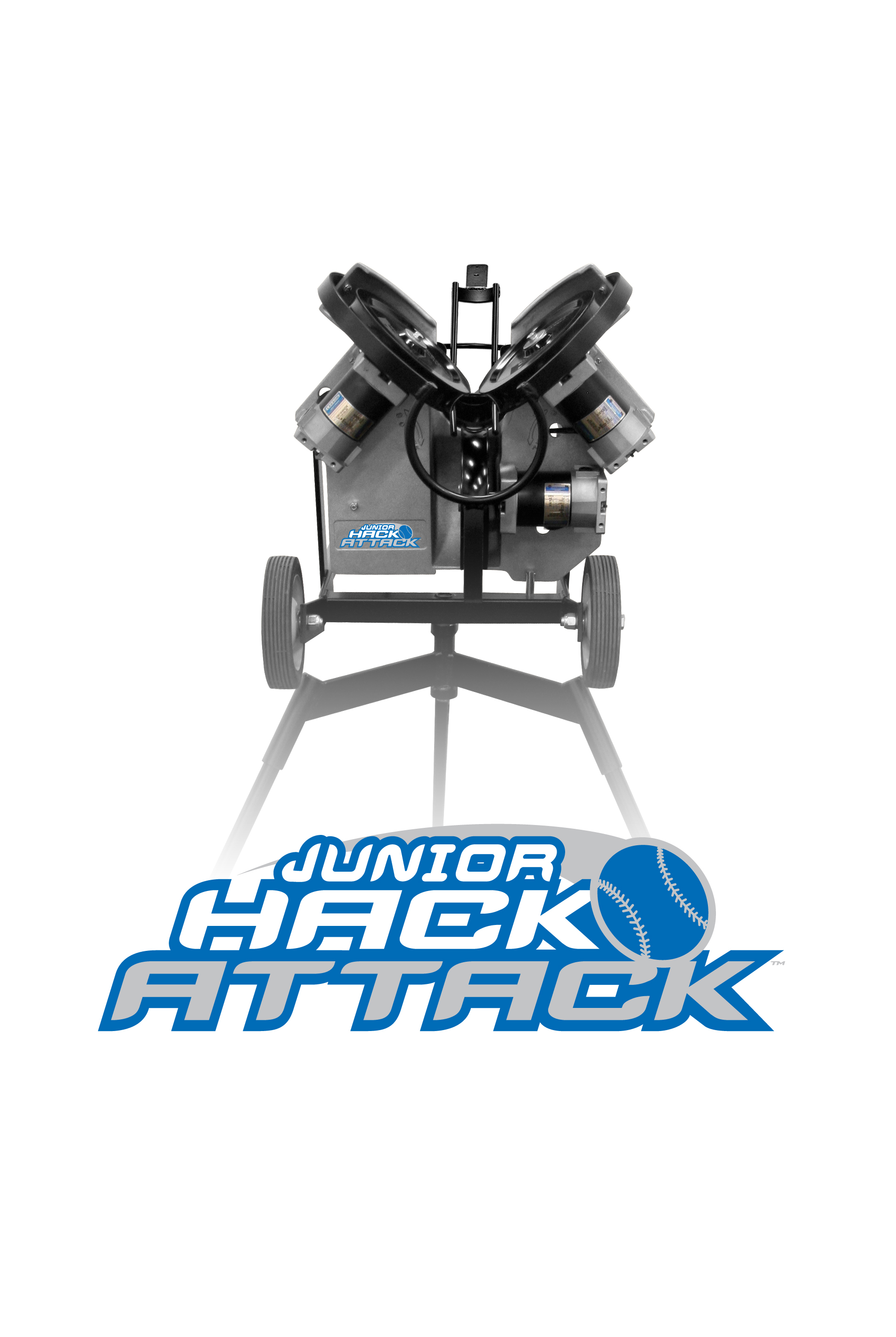 $100.00 shipping No Sales Tax unless delivery is in Washington State
The Junior Hack Attack has a unique three-wheel design that allows you to see the ball clearly and fully all the way through the feeding motion, acceleration and release, just like a live pitcher. In developing hitters, especially at younger ages, there is nothing more important than timing and vision.
With this design, the hitter sees when to stride and the angle of release, giving him an actual live-arm sense of timing and location. The Junior will develop your dedicated players into the "pros" they want to be.
At a level where simplicity is imperative, with the Junior Hack Attack dials you can effortlessly throw major league fastballs, and right and left handed breaking pitches including curveballs, sliders and split fingers.
This exclusive three-wheel design changes the breaking pitch plane by simply adjusting wheel speed dials. (All two-wheel units require time consuming awkward throwing head adjustments to change from fastballs to curveballs or right to left handed breaking pitches.)
The Junior Hack Attack's elevation adjustment handle will raise or lower the pitch. With a simple turn, you can even move the pitch up or down within the strike zone between pitches. (On two-wheel pitching machines it may be necessary to release a locking mechanism, reposition the entire throwing head by tilting it manually and then re-locking the locking mechanism. These are awkward time-consuming adjustments.)
New Features on the 2015 Junior Hack Attack
Introducing the new Inside/Outside Control

Now both the Hack Attack and the Junior Hack Attack will include an inside/outside adjustment that provides instant location change, giving the machines a whole new dimension. This feature will:
Center the first pitch without having to shift the entire machine (no more kicking of back leg)
Allow the operator to move the pitch inside or outside with a simply turn of a handle
In combination with the elevation control, quickly move a pitch to any area of the strike zone between pitches
The machines still lock to repeat pitches and still release to do all of the fungo work.



New Sleek Design
The 2015 pitching machines have a new sleek look with an upgraded exterior design.
New Leg caps
The 2015 pitching machines have upgraded, extra heavy-duty leg caps that will last for seasons.
Junior Hack Attack Specifications

Speed 70+ MPH
Distance 45 ft. (simulates 90+ MPH)
Vision Complete ball vision provides a realistic sense of timing
Accuracy The ball is gripped in three locations, providing tremendous control and accuracy
Efficiency Dial-in pitch selection without throwing head adjustments, maximizes practice time
Fungo 250 ft. fly balls
Portability Quickly rolls on and off the field
Recovery Time 5 seconds, because of the three wheels, it is almost instant

Price: $2,195
NO SALES TAX IF ORDERED FROM ANY STATE OTHER THAN WASHINGTON
The Advantage of WheelsSpecificationsPerformance Comparison
FEATURE
3-WHEEL
eHACK ATTACK,
HACK ATTACK & JUNIOR
2-WHEEL
MACHINES
1-WHEEL MACHINES
ARM
MACHINES
Vision
Complete
provides a realistic
sense of timing
Poor
Poor
Poor
motion hidden
by arm guard
Timing
Excellent
natural
Poor
limited vision
Poor
limited vision
Good
Accuracy
Excellent
three-point contact
Good
two-point contact
Fair
one-point contact
Good
Breaking Pitch
All
quick adjustment
All
awkward – slow adjustments
Unrealistic Spin
Fastball Only
single pitch
Fungo
Excellent
pivots instantly
Good – Fair
Poor
limited distance
Poor
no pivot
Safety
Excellent
wheel guards
protect operator
Poor
limited –
no wheel guards
Poor
limited –
no wheel guards
Excellent
Portability
Excellent
Good
Good
Very Poor
completely immoble
Ball Grip Area
Excellent
three contact points
Good
two contact points
Poor
one contact point
N/A
Spin Control
Exceptional
no cumbersome adjustments of throwing head
Good-Poor
must move throwing head
Unrealistic
excessive spin
Backspin Only
Wheel Diameter
Excellent
Large 14″ wheels, pin-point accuracy, less ball wear
Good
smaller wheels
increase wear
Poor
requires pinch pad, heavy ball wear
N/A
propels ball using
a mechanical arm
Throwing Head
Size & Weight
Excellent
no recoil of any kind
Good – Poor
lighter, some recoil
Poor
snubbing action causes recoil
Poor
recoil requires bolting to concrete base