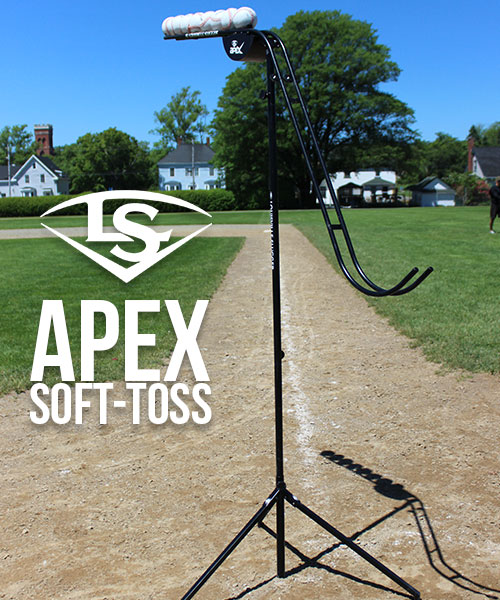 OUT OF STOCK UNTIL AUGUST 2021

A New Dimension in Soft-Toss Training…The APEX Soft-Toss System
The Louisville Slugger APEX Soft-Toss Machine / Tee Training System is the perfect training aid for any player, coach or team. This collapsible and compact soft-toss system allows you to take your training anywhere and train with or without a partner. Just load the feeding arm with baseballs or softballs and set the release timer at 6/8/10 second intervals allowing you to get your swings without the need for a soft-toss partner to throw the balls. Your coach can now focus on improving your swing and not tossing the balls. The slope arm tosses the ball perfectly every time towards the batter at pitch level for more realistic, game-like training. This promotes the load-phase aspect to soft-toss leading to consistent and successful approaches at the plate. It's telescoping arm adjusts for batters of any height from beginners all the way to the pros.

With a simple adjustment, the APEX Soft-Toss with convert to a fielding trainer rolling grounders to the fielder to developing fielding skills and work on footwork. A little higher setting will toss high hops to work on different types of fielding situations.

No hitter develops their game without tee work. The APEX has this covered. By removing the soft-toss attachment and replacing it with the included high-performance tee attachment, the batter can get their tee work in too. The wide base and super-durable rolled rubber top, this tee is extremely stable and will stand up to any player's hits. The adjustable height tee works for all ages and heights. The APEX Soft-Toss System converts to the pro tee in just seconds.