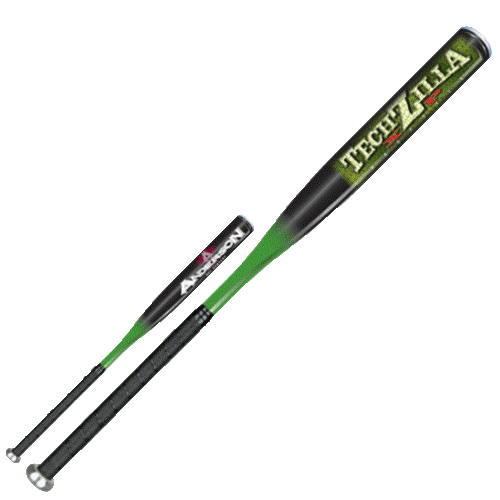 2 1/4 Barrel Double walled bat -9Approved for Little League and all Youth Leagues. Shipping $12.002 to 3 day Delivery in USA
This Bat just flat out crushes the ball. This is the 2010 TechZilla baseball bat.


This is the hottest youth baseball bat on the Market . Anderson bat company out of California held back nothing to bring the new TechZilla XP (Extreme Performance)(Recommended for the mechanically-sound advanced-skills hitter) Introducing the highest performing youth baseball bat in the world... TechZilla XP. This bat is one of the ONLY multi-wall youth baseball bats in the game. The distance and exit speed off this bat have to be seen to believe. TechZilla XP uses Andersons exclusive Power Arch Technology to increase responsiveness in the barrel and provide distance like no other bat in the game or history for that matter. Start swinging the bat that will change your game forever. TechZilla XPhas an end loaded feel and is available in lengths of 32, 31, 30, 29 and 28 at a minus 9 swing weight.


Anderson Bat Company is excited to announce their revolutionary, patented, POWER ARCH TECHNOLOGY into the high-performance multi-wall bat arena. The most important characteristic of a multi-wall bat is to have flex in the barrel. This ability of the barrel to flex is what the TRAMPOLINE EFFECT is all about. The reality of todays multi-wall bats is that they have two straight walls and to get the good flex you have to make the walls so thin that they will dent easily. If you make the walls thicker to increase the durability you lose the good flex
This is where Anderson Bats revolutionary, patented, POWER ARCH TECHNOLOGY comes into play. They have created the inner wall of the barrel with a series of carefully spaced arches that maintain constant contact at intervals calculated to maximize strength while increasing flex. This means that they have created a bat the has incredible durability and extreme high performance.
The arch is one of the strongest and most flexible shapes in engineering. The Power Arch Inner Wall design has truly revolutionized the TRAMPOLINE EFFECT by allowing the outer wall of the barrel to flex in and out much faster. This is because of the strength and flex all those arches bring to the supporting inner wall. They have literally beefed up and tightened the springs of the TRAMPOLINE! The POP and DURABILITY of the POWER ARCH is unequaled in the multi-wall softball bat arena.
Bat sizes Available 28, 29, 30, 31, 32

Price $149.00