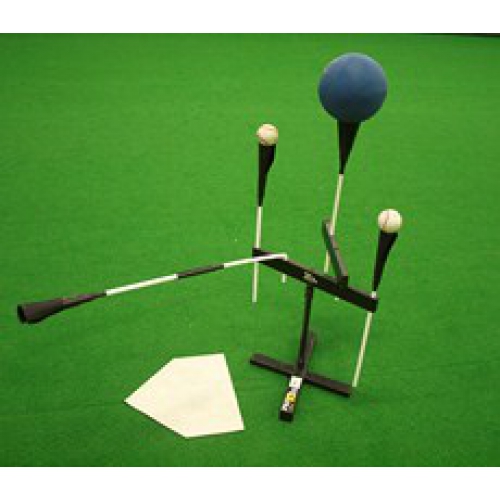 The Pro X Tee Hitting system and What?? A ball bag attachment that holds a full bucket for BP or Tee Training?
Drills Drills, Drills for and more drills;
Power Ball Top for Bat Speed and Power,
Stayback Attachment for feedback on Lunge and stride,
5 Tee Positions for Inside, Middle, Outside, Bat Path, Opposite Field Hitting,
Low Ball,
High Tee,
The "NEW" Built in quick clamp extension system allows for High Tee drills for hitters as tall as 6' 5". Remove the extension post and put the ball at 18 inches for Low Ball Drills.
Load Drills Power Drills and many more!
Unmatched Design and Durability and Portability
No other Tee can match it. The "2009 ABCA and COLLEGIATE BASEBALL MAGAZINE NEW PRODUCT OF THE YEAR"
The Pro X Tee Hitting system is flat out a muscle memory training system for hitters. The ProXTee 300 uses 3 tee tops for full plate coverage and virtually unlimited training options.
Over 300 Colleges and Major League Teams choose ProXTee to train their hitters.
The most Complete Swing Training System available. Includes:
• ProXTee300 Training Tee
• Sliding Extension System to 56 inches
• Stayback Adapter
• BP Ball Bag Attachment
• Powerball Tee Top (does not include ball)
• Easy Carry Bag w/ Shoulder Strap
This is a complete hitting training station and packs into a travel bag.