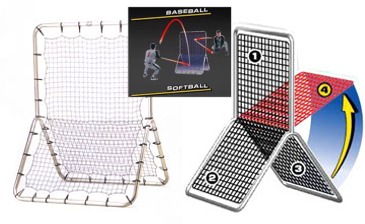 Pro Practice Partner Quadnet
BPP1982
Warranty
Patented NEW FOURTH SIDE prolongs net life
May be used by multiple players simultaneously
Fast Assembly - No Tools Required
No Springs, Nuts, Bolts or Screws
1 1/2" Diameter, 18 Gauge Galv. Steel Frame
100% Weatherized Nylon Net
39 Sq. Feet of Playing Area
68"H x 48"W -- Use Both Sides
Will Not Tilt Over
Special Angular Design Eliminates Tie-Downs, Anchors or Weights
No Age Limits
Five Sports -- All in One Unit
Shipping Weight: 30 lbs.
Replacement Parts Available for All of our Products
Space Kit Available
Provides Maximum usable playing angles.
Ships via UPS Ground.