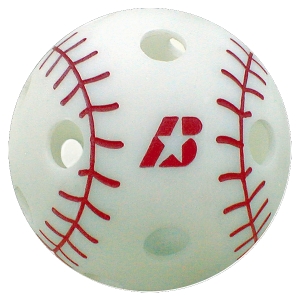 Baden's Whiffle ball; the BL9 Big Leaguer® is the best whiffle ball made. The red seams allow batter to see or pick up the spin on the ball. Not only does it move just like a regular baseball, but the material it is made out of is extremely hard to crack. The special plastic allows a ball that is dented on a hard hit to recover it shape on its own. Sold in 6 dozen per case. Shipping is 15.00 per case. Free shipping on orders ordering more than 12 cases.
BL9
White 9 Official Size
Simulates the pitch of a real baseball
Embossed seam protects the color from wearing off
Red Seams allow batter to see ball rotation
Patent pending
Special memory plastic keeps shape and prevents cracking.
Best Whiffle ball made. period!


Construction: Plastic
Use: Practice
Size: Official
Weight: Light Weight
Age Group: All Ages
Skill: All