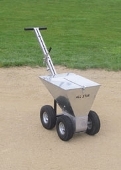 All Star Pneumatic Chalker 03953)
Top of the line Chalker. Air filled wheels. 100 pound capacity. Shipping 30.00.

The All Star Pneumatic hopper went to a 100 lb. capacity. It has a new, multi-height, telescopic handle and new flow control dial. It no longer has the clutch-drive wheels that allowed the user to pull in reverse without the paddle wheel turning(not needed).