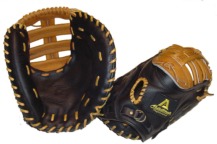 Akadema Catcher's Mitt - Model AEA 65)
34" circumference, double "T" web, two tone, fast pitch softball catcher's glove 12.00 shipping

includes a tie strap closed back for adjustable wrist grips. The glove has a deep Thunder Pocket making a crashing sound as the softball hits it. The glove includes Apachetan webbing and 1/4" Apachetan lacing.